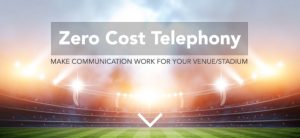 A great opportunity to save between 40% and 55% on your telephony costs in 2018 and create a new revenue stream.
An exclusive opportunity for venues and stadiums across the UK has been established, creating a new and exciting way to cut telephony costs considerably and turn your corporate connections into tangible opportunities to up-sell telephony and communication services.
The instant saving is between 40% to 55% and the recurring revenue share from your connected businesses with an average monthly spend of £300 on telephony* would result in your telephony becoming Zero cost. Any up-sell ls to your business connections thereafter become instant profit, making communications a fantastic up-sell tool for your organisation. New connections can be established or contract take-over are available.
For more information complete the form to the right of this page.